TENDON GROUTS
Material for Installation
0 Comment
Tendon supports are installed in rock by grouting. Grouting can be carried out by chemical resin and or cementitious composite material.
Resin Grouts
In Australia polymer resin grout capsules (see opposite) are mainly used for solid rebar installtion in rocks; however, they are also used for cable bolt installation depending on their length and tensioning.
Resin capsules are normally supplied in a two component capsules. They consist of reinforced thixotropic polyester resin mastic in one compartment and organic peroxide catalyst separated by a plastic film barrier.
Two types of resin capsules are available depending on the catalyst type. The so called oil based resin capsules have oil based catalyst between 5 – 10%. The water based resin is another type with the water based catalyst greater than 20 %.  In Australia both oil and water based resins are used, with the oil based resins being more common.  On the other hand,  in the USA, water based resins with catalyst proportion of around 30 % are widely used.
Some long resin capsules (1m and greater) contain two setting speeds Mastic and catalyst components in a single capsule. This enables two separate speeds in a single capsule, thus eliminates the need to use multiple single speed resin capsules in a single bolt hole. The use of twin speeds capsules is suitable for full encapsulation of pretensioned rock bolts.
Most capsule manufacturers offer a range of sizes to suit the needs of the bolting system in place and local strata conditions. In Australia, the 25 mm diameter capsules are most popular as they are used for 22 mm core diameter bolts in 27/28 mm diameter holes and are oil based.  However, capsules can also come in 26, 30 and 36 mm in diameter, to be used in larger boreholes.
Tendon Installation involves spinning the solid bar or cable through the capsule, the action of which ruptures the capsule, shreds the plastic film and mixes the two components causing a chemical reaction and transforming the resin mastic into a solid anchor.  The capsules are sealed at each end by wire clips.
Resin grout is also available as pumpable product. In some places pumped resins are used in conjunction with self-drilling anchors and resin grouts  in the form of polyurethane (PUR) grouts for consolidating broken or friable ground, particularly above longwall faces in underground coal mines.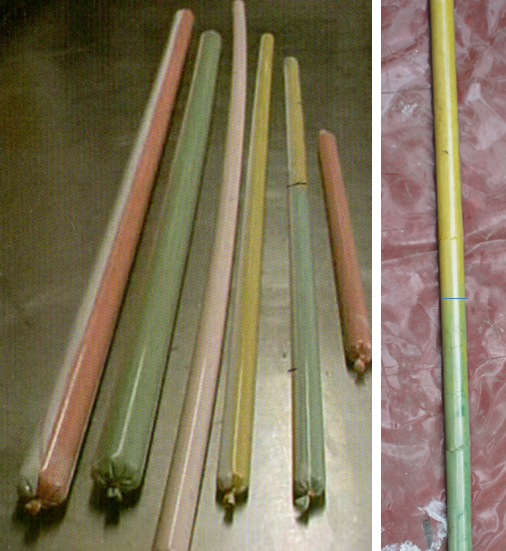 | | |
| --- | --- |
| | Resin Capsules (Source Orica) Two speed resin capsule (slow and fast) |
Cementious Grouts
There is a wide range of cementious grouts used for bolt installation and ground consolidation. These range from the ordinary Portland cement mixes to pre-bagged, formulated grouts.  In particular cement grouts are used mostly for cable bolt installtion, and full column grouting usually ensures a good bond between bolt .cable and the strata.
Different types of grouts are available for strata reinforcement; the most common types that are used in Australian mines include Orica's Stratabinder and jennmar's TD80 and BU100.  They all have almost similar properties for cable encapsulation and load transfer capability and their ultimate performance will depend on the proper preparation and mixing operation. In particular the uncontrolled edition of the excess water to make pumping easier is a frequent issue.
GROUT PROPERTIES
The mechanical strength properties of resin and grouts include determination of various properties similar to testing of rock and concrete. Based on suggested methods by various standards (British standard- BS 7861: Part 1: (1996), American Standards (ASTM- C579) (1991), (ASTM – D7012-13), South African Standard (SANS1534) (2004), and ISRM (International Society of Rock Mechanics (2007)), the appropriate evaluation of the resin strength properties normally includes the determination of:
Uni-axial Compressive Strength
Elastic Modulus of Elasticity
Punch shear test
Creep or Rheological Properties